Steam Driving Experience Day
Enjoy the thrill of a lifetime or realise that childhood dream. Hold onto your hat and take control of a heritage steam locomotive on Bodmin Railway – it's an experience you'll never forget!

Treat yourself or someone special to an unforgettable experience savouring the true magic of steam.
Our Experience Days are designed for those looking to experience aspects of the railway that are unseen by the majority of our visitors.  Lunch and refreshments are included, and participants will receive a certificate as a memento of the day.
Don't just watch and photograph our locos, climb aboard and become driver for the day!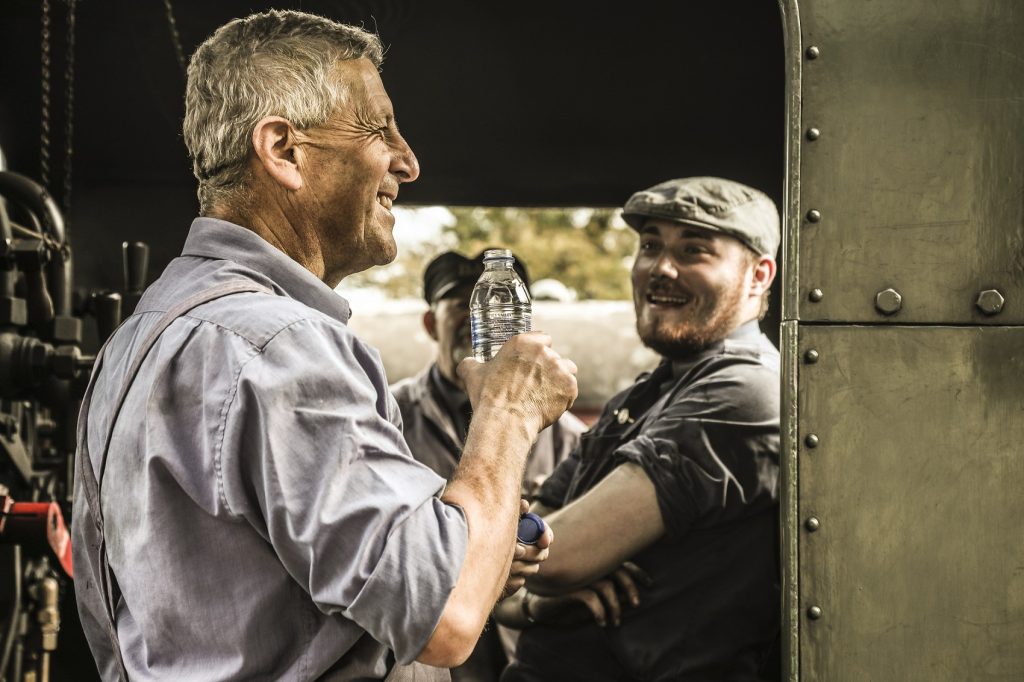 Please note this is a labour intensive day. Please check our FAQ's below, if you are unsure if you are suitable to take part in our Steam Driving Experiences.
Steam Driving Experience Day
Dates for 2024 being finalised.
Feel the surge of adrenaline as you get hands on in control of a heritage steam locomotive. Experience working on board the footplate of a steam engine, as you join the crew on the footplate, shovel coal onto the fire, blow the whistle, open the regulator and feel the power as you experience life as the Driver and Fireman of a steam locomotive.
With challenging gradients as steep as 1 in 37 and a unique rake of China Clay wagons, you will take it in turns to drive and fire the locomotive.
During the course of the day you will experience work as a Driver, Fireman and Guard, and will also visit the signal box, guided and encouraged by our fully qualified crew.
FAQ's
How long does the experience last?
All courses are one day in duration, usually between 9am and 4pm.
When do the experience days take place?
Dates are by arrangement, on selected Saturdays throughout our the year, please see above.
How many people can take part?
Each experience usually has three participants. If you'd like to be put on the same engine as friends who are booking separately, please let us know when booking. Up to 2 accompanying guests are welcome to share the experience and may travel in the brake van free of charge in the afternoon.
Do I need to bring lunch?
Lunch and refreshments are provided to all participants. We can cater to most dietary requirements (including gluten free and vegan) with advance notice, just make sure you let us know when you book.
Are there any restrictions about who can take part?
Due to the nature of the experience, participants must be at least 18 years of age and be of considerably good health; fit and active in day-to-day life. Participants must be capable of moderate exertion and able to climb and descend a 6-foot ladder. The experience can contain fairly intensive labour on both the Firing and Driving elements of the day and although regular breaks are provided we stress it is a very 'hands-on' day.
This activity may not be suitable for those with disabilities that may affect mobility, concentration, dexterity and co-ordination. If you are unsure about whether the participant is suitable for the driving experience please do not hesitate to contact us before booking.
What is included in the ticket price?
Each experience includes a full day of activity, lunch and refreshments throughout the day, a certificate of completion, free travel onboard for up to 2 friends and family in the brake van in the afternoon, and to mark the occasion, each participant is presented with a certificate at the end of the day. The cost of the experience also includes a year's membership of the Bodmin Railway Preservation Society (BRPS). Membership of the BRPS provides additional benefits including an excellent magazine three times a year, volunteering opportunities and travel concessions.
What should I wear / bring?
It is inevitable that you will get dirty – old clothing, with protective overalls and gloves, and strong footwear are essential.
Will it involve active participation?
Yes. You will need to climb onto, underneath and around the locomotive. On the Steam Driving Experience, you will be involved in active participation in the preparation, firing, driving and disposal of a steam locomotive. You will be exposed to heat, water and ash. You will have to handle heavy tools and shovel coal.
All reasonable safety precautions will be taken. You will be under constant supervision, but it must be pointed out that this activity has potential hazards, although no more so than other active occupations or sports.
You must be prepared to accept instructions from those in charge, which will be for your own benefit. Instructors are qualified and experienced Bodmin Railway Drivers and Enginemen/Secondmen.
What happens if I need to cancel the experience?
Cancelled bookings are subject to the following charges being made:
£50 if cancelled more than 28 days in advance of the booked course date;
£100 if cancelled between 7 and 28 days in advance of the booked course date;
The full course fee if cancelled fewer than 7 days before the booked course date.
These charges may be waived in the event of extenuating circumstances, at the discretion of the Bodmin Railway.
What happens if Bodmin Railway needs to cancel the Experience?
Whilst every effort will be made to operate our courses on the dates advertised and agreed, there may be occasions when we have to curtail or cancel a course for operational reasons. If we cancel your course, we will offer you an alternative date or a full refund of the course fee, however we are unable to reimburse travel or accommodation charges associated with a curtailed or cancelled course.
How do I book?
This year all of our driving experiences can be purchased online HERE.
Payment of full price is required at the point of booking.
If you have any queries, please do not hesitate to get in touch.
Diesel Driver Experience
Find out more about our Diesel Driver Experience Days.