Frequently asked questions
Here you'll find some of the most asked questions about a visit to the BWR. If you still can't find what you're looking for, please get in touch.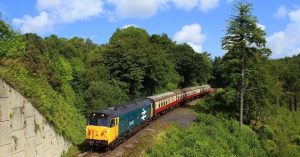 How much does it cost to travel?
It depends whether you have come along to enjoy a day out at the Railway or whether you're attending a special event. An All Line Ticket allows you to travel both of our branch lines!
Click here to find details of our fares or take a look at our special events page to plan your next adventure.
How much are concession tickets?
Senior/Concession tickets are £17.50 per person. Senior tickets are for those aged 65+.
If you require a free of charge carer's ticket, please call the office and we will arrange this for you.
Click here to find details of our fares.
What is an All Line Ticket?
An All Line Ticket allows you to travel over both of our branch lines. When you book online it will automatically book you onto the second branch line. So for example if you book on the 10:30 to Bodmin Parkway return, it will automatically book you onto the 11:50 Boscarne Junction return.
I don't understand where your lines go.
Our line is shaped like a Y and comprises of two branch lines. We encourage people to start their journey at our main station, Bodmin General as this is where we have car parking and all our facilities. From here, one branch line goes to Bodmin Parkway where it meets the main line and where passengers can join if they wish to travel to us using the mainline. The train then  returns to Bodmin General. The other branch line goes to Boscarne Junction where it meets the Camel Trail. The train then returns back to Bodmin General.

Do I need to buy tickets in advance?
We encourage all of our visitors to book their tickets in advance. For 2022 we are continuing with allocated seating. We cannot guarantee that if you turn up on the day without a booking that we will be able to accommodate you.
If you're planning to attend a special event, you do need to book in advance. Please check the details of the event you wish to attend.
Can I get on at Bodmin Parkway?
Passengers looking to board at Bodmin Parkway can purchase tickets to travel on the Bodmin & Wenford Railway from our Buffet in the old Signal Box on Platform 1 at Bodmin Parkway, subject to there being space on the train.
Can I join mainline services at Bodmin Parkway?
Please be aware that none of our trains are scheduled to meet with any mainline services at Bodmin Parkway. The 13:15 departure to Bodmin Parkway is not a connecting service with Great Western Services. Please do not try to board the 13:31 Great Western Railway service from Bodmin Parkway.
Can I get a later train back?
We appreciate that many of our visitors enjoy going for a walk and catching a later train back. This year we are pleased to announce that on certain dates and trains you are now able to do this. Please follow the link below for more information.
Do I have to ride a train to visit?
No! During most days that we're open you're welcome to come and visit the station, have a look around and visit the Cornish Rail Coffee Co. café, the gift shop, and platform facilities free of charge. The exception to this would be if we're holding a special event, in which case you'll find details on the events page.
Help! I don't really understand your timetables!
We run the same timetable each day with the exception of special events. Because our line is shaped like a Y, you start at Bodmin General travel out to either Bodmin Parkway or Boscarne Junction and then return to Bodmin General, before going to the station that you haven't yet visited and finishing back at Bodmin General.
Help! I'm struggling to book tickets!
If you are trying to book tickets and it shows that there are spaces available but you cannot book tickets, this is probably due to the following train being full. Because we run over two branch lines, if the second part of your journey is fully booked, it means that there isn't enough seating for the second part of your journey.
When that is the case we suggest that you try a later time in the day or a different day.
You also have to add different ticket types separately. For example if you want to book a family ticket, a concession and dog you have to choose the date of travel for the family ticket, then for the concession and finally for the dog.
Do you take bookings on the day?
Because we have limited seating on board the trains and work with allocated seating we are encourage everyone to book in advance as we cannot guarantee that we will be able to accept you as a walk in.
Are dogs welcome?
Yes! Please note that it is paws-on-the-floor travel. Dogs are not allowed to sit on people's laps or on a blanket on the seat or on the table.
Is the station accessible for wheelchair users?
While Bodmin General is a wheelchair accessible station, unfortunately not all of our trains are, due to their construction in the 1950's and traditional narrow doors. There is lots of information on our Access page which might be useful to you, but it you can't find what you're looking for, please get in touch.
Is there a café on site?
Yes! We have the Cornish Rail Coffee Co. café at Bodmin General, and the Buffet at Bodmin Parkway. The Buffet at Bodmin Parkway has now reopened after undergoing a refurbishment. It is open Monday to Saturday, 07:30 to 14:30. You can find out more about our cafés, gift shop and other on site facilities below.