Frequently asked questions
Here you'll find some of the most asked questions about a visit to the BWR. If you still can't find what you're looking for, please get in touch.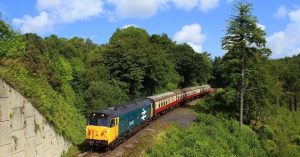 How much does it cost to travel?
It depends whether you have come along to enjoy a day out at the Railway or whether you're attending a special event. An All Line Ticket allows you to travel both of our branch lines!
Click here to find details of our fares or take a look at our special events page to plan your next adventure.
Do I need to buy tickets in advance?
When we reopen you will have to book your tickets in advance via our soon to be completed, new ticket booking system.
If you're planning to attend a special event, you most likely do need to book in advance, please check the details of the event you wish to attend.
Do I have to ride a train to visit?
No! During most days that we're open you're welcome to come and visit the station, have a look around and visit the Cornish Rail Coffee Co. café, the gift shop, and platform facilities free of charge. The exception to this would be if we're holding a special event, in which case you'll find details on the events page.
Help! I don't really understand your timetables!
We are in the process of simplifying our timetables. This will mean that with the exception of special events, it will be the same timetable no matter what trains are running.
Are dogs welcome?
Yes! We're proud to be one of the dog friendly attractions in Bodmin, Cornwall's most dog-friendly town! You can find out more about dog tickets and paws-on-the-floor travelling here.
Is the station accessible for wheelchair users?
While Bodmin General is a wheelchair accessible station, unfortunately not all of our trains are, due to their construction in the 1950's and traditional narrow doors. There is lots of information on our Access page which might be useful to you, but it you can't find what you're looking for, please get in touch.
Is there a café on site?
Yes! We have the Cornish Rail Coffee Co. café at Bodmin General, and the Signalbox Café at Bodmin parkway. You can find out more about our cafés, gift shop and other on site facilities below.