Discover Bodmin Railway, inside Cornwall's most dog-friendly town!
Did you know that Bodmin has more visitor attractions than any other town in Cornwall? And better still, every single one of them is dog friendly!
We are proud to be a dog friendly railway. When you visit, why not make a day of it with a walk to one of Bodmin's other dog friendly visitor attractions – there are six others within walking distance of Bodmin General Station!
Please note during our Christmas events we DO NOT allow dogs onto our platform. This is purely due to health and safety reasons, as our platform is generally much busier.
And for cyclists, you'll be pleased to know that we're cycle-friendly too! You can find details further down this page.
Dog Tickets
Buy a £2.50 Dog ticket and they'll be welcome to travel with you on our everyday service trains.
Dog tickets entitle your pooch to paws-on-the-floor travel. We ask you to ensure that your dog does not travel on the seats, not even on a blanket, as this leaves hairs for our next customers.
Dogs are welcome throughout the station and on board our regular passenger trains except around the on-train bar area, or where food is served. For our some of our events, including our Murder Mystery trains we do not accept dogs. Please do get in touch if you are unsure on whether your dog is allowed. Assistance dogs can be permitted on event trains, but please inform us first.
There are bowls of water on the platform at Bodmin General for dogs. While dogs are more than welcome visitors to Bodmin Railway, we do ask that you please keep them on a short lead on the platforms and on the trains, for their own safety and the safety of our other visitors.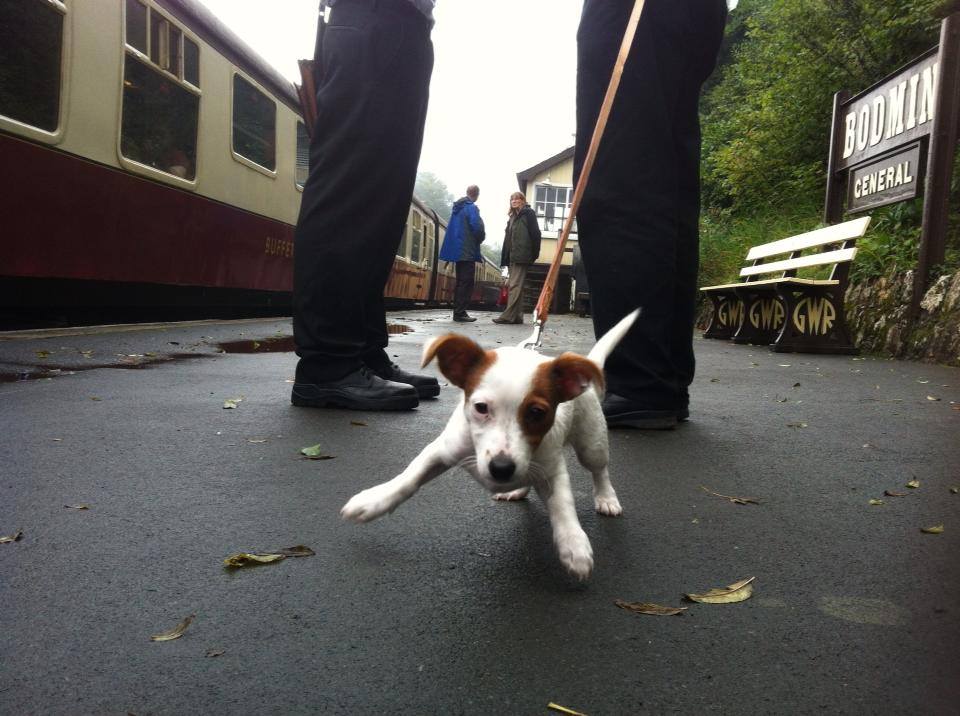 Walkies!
There are many beautiful walking opportunities nearby – from the Bodmin Beacon Nature Reserve (walking distance from Bodmin General Station), to the National Trust Lanhydrock Estate, and Cardinham Woods, and not to forget the Camel Trail, 18-miles of Cornish countryside along a disused railway line between Wenfordbridge, Bodmin, Wadebridge and Padstow in the heart of Cornwall.
Two walking apps with Bodmin routes will enable you to explore our dog friendly town (take a look at iWalk Cornwall and Kneehigh Rambles), and why not make a day of it with a visit to some of Bodmin's other visitor attractions? As mentioned, there are six others within walking distance of Bodmin Railway:
Cornwall's Regimental Museum (across the road, situated inside Bodmin Keep)
Bodmin Jail
Bodmin Town Museum
The Courtroom Experience
St Petroc's Church
intoBodmin's The Old Library
Dog-friendly attractions on the periphery of the town are Pencarrow House and Gardens and the National Trust's Lanhydrock Estate.
Bring your four-legged friend and discover Bodmin Railway, inside Cornwall's most dog-friendly town.
Cycle Friendly Railway
Space is limited on our trains, but we will always make an effort to get your bike on board, and if space is available then bicycles and trailers are always carried free of charge. If you are returning to the same station, why not leave your bike behind? Bodmin Parkway has steel cycle racks, Boscarne Junction has wooden posts that you can lock your bikes to, and our main station Bodmin General is manned at all times whilst trains are running.
Cycle Adventures
Explore By Bike Collaboration
This summer, we have collaborated with Explore By Bike, based in Bodmin, for bike hire and steam train excursions.
Explore By Bike has two bike excursions that include routes in which you can explore Cornwall both by bike and steam.
The Steam Railway Package 1 includes a trip on our Bodmin Parkway branch line, with a suggested route of cycling around Lanhrydrock estate and back to Bodmin.
The Steam Railway Package 2 includes a suggested cycling route along the Camel Trail, finishing off with a ride on our Boscarne Junction branch line, from Boscarne Junction to Bodmin General.
Both packages must be purchased in advance from the Explore By Bike website. Follow the link HERE to book tickets.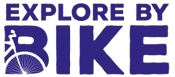 ~
If you have your own bikes and wish to devise your own cycle route you can find a wealth of tracks and trails, all accessible from Bodmin Railway. Please take a look at the websites of the below for more information about facilities, trails and offerings.
Lanhydrock Estate – Alight at Bodmin Parkway
The Camel Trail – Alight at Boscarne Junction