What you can expect at the Railway this month!
What's happening at the railway in February!
The first month of 2023 is complete and all of our staff and volunteers have had a much needed rest after Christmas. With the last bits of tinsel all packed away ready for later in the year, prep for re-opening in February half term has begun!
This month we will be open for a total of six days over the February half term. Are opening days will be: 12th, 14th, 15th, 16th and 19th of Feb. There will be four train departures, at the times: 10:45, 12:00, 13:35 and 14:50. You can find more about our timetables and fares HERE.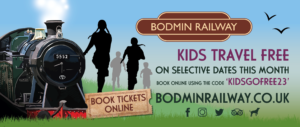 Over the February half term we will be running our offer 'Kids Go Free'. For every paying adult ticket, two children can travel free on the first three train departures of the day. You can use the code 'KIDSGOFREE23' at checkout to redeem the offer. You can purchase tickets HERE.
~
Love will be in air at the Railway this Valentine's as we offer a Valentine's special Murder Mystery Train. This event will run during the evenings of the 14th and 15th of February. Whether it's a special evening with a loved one or a 'single friends' get together, we invite you to our 'Trust in Me Darling' Murder Mystery.
Scripted and performed by the very best in the west, Murder by Appointment, we can guarantee an immersive night full of thrills, excitement and curiosity. Bring your best detective skills, as you travel on the train, watch the plot unfold and try to find out 'whodunnit'. Each ticket includes a pasty and arrival drink. Don't forget to pre-order a bottle of wine or two to treat your loved one to a splendid night!
'Trust in Me Darling' – Romance is in the air for the Businessman and his new Lady friend. Planned marriage and a partnership in a new venture, but who are the strangers who have appeared and seem to know the businessman? Secrets will be uncovered, allegations made and revenge will be sought. Guaranteed to end in Murder! You can purchase tickets HERE.
The event will begin at 18:30 on both evenings, but we suggest arriving at least 30 minutes before event start time. Please note the event is based at Bodmin General Station, PL31 1AQ.
~
We gently ease into 2023, opening for a short span in February, but we hope you join us to kickstart the year! If you have any questions regarding our opening hours, times, fares or event details, please do get in-touch! See you all on Sunday 12th of Feb.