We are Looking for a Business Administration Apprentice
Bodmin and Wenford Railway are offering an exciting opportunity to join their team. This varied role will enable you to enhance your career, giving you valuable on-the-job experience whilst working towards an industry recognised qualification.
Apprenticeship Summary
Key Duties & Accountabilities:
Assist the Commercial Department in the day-to-day business operations of the Railway.
Support the Marketing team with social media channels, regular content to increase brand awareness, attract new members and inform existing customers with newsletter.
Plan, Organise and Support Events for the Railway.
Understand and learn the financial way of working.
Be an ambassador for the business when out in the wider community.
Assist in the Retail shop when required.
Support the catering locations from time to time.
Daily Booking Office Duties.
Answer incoming calls, handle visitor enquiries, answer emails, build rapport with the customers.
Work with the other team members to provide a warm and welcoming office environment.
Provide support for the administrator when required.
Complete daily, weekly, monthly admin that may be required in busy periods.
Build relationships with our volunteer team.
Any other duties that may be required as necessary.
General Responsibilities:
Work in a safe and proper manner with due regard for yourself, your work colleagues and the public.
Be polite, courteous and helpful to staff and customers alike at all times.
Work to BWR safe systems of work, the requirements of the company's risk assessments and to any other instructions/procedures/policies that the Company may issue from time to time.
Weekly wage
Working week
You will be working on a rota basis, hours will be from 9:00am to 5pm. There will be some weekend work required.
Total hours per week: 37.50
Expected duration
Apprenticeship level
Advanced
Level 3 (A level)
Reference number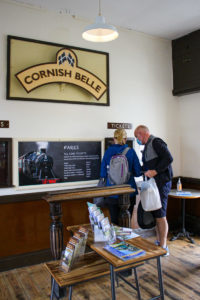 Requirements and prospects
Interpersonal skills
Customer service skills
Attention to detail
Ability to manage own time
Ability to work as part of a team and on own initiative
Personal qualities
Able to use own initiative
Problem solver
Proactive
Team player
Organised
Desired qualifications
5 GCSE's including English and Maths at grade 3/D or above or equivalents.
Future prospects
Working with likeminded Businesses and Tourist Attractions.
Full Time Employment with Bodmin and Wenford Railway.
Things to consider
Good transport link
Parking onsite
As part of our business we have a commercial department which runs the railway as a Tourist Attraction. We have around 50k visitors coming to the station to ride on the trains, visit our busy catering outlets, spend in our retail shop as well as a busy events/admin team dealing with our events and ticketing systems.
We are now looking to recruit new team member to deliver a great visitor experience by supporting the day to day operations. We are open 7 days a week, so there is a need to work weekends on a rota basis and you may be required to cover some evenings when we hold events.
The role of Business Apprentice will be hands on, fun and fast paced. No two days are the same and the priority is ensuring our visitors have a great day out with us.
Training
CORNWALL COLLEGE
Applications for this apprenticeship are being processed by Cornwall College Business.
Contact
Abbie 01209616422
This apprenticeship consists of a mixture of off the job training and on the job mentoring and development within the workplace.
You will be expected to attend regular college workshops and additional attendance if functional skills are required.
This will be delivered at Cornwall College St Austell.
Apprenticeship standard
Business administrator
Level 3 (A level)