Help us get back on track
In these challenging and uncertain times, we need your help to make sure we can get back on track after the railway's enforced closure.
We are truly humbled by the support we have received since announcing our delayed opening.
As several members of our community have asked how they can help, here are a few suggestions for ways you can support us at this challenging time. Find out more below.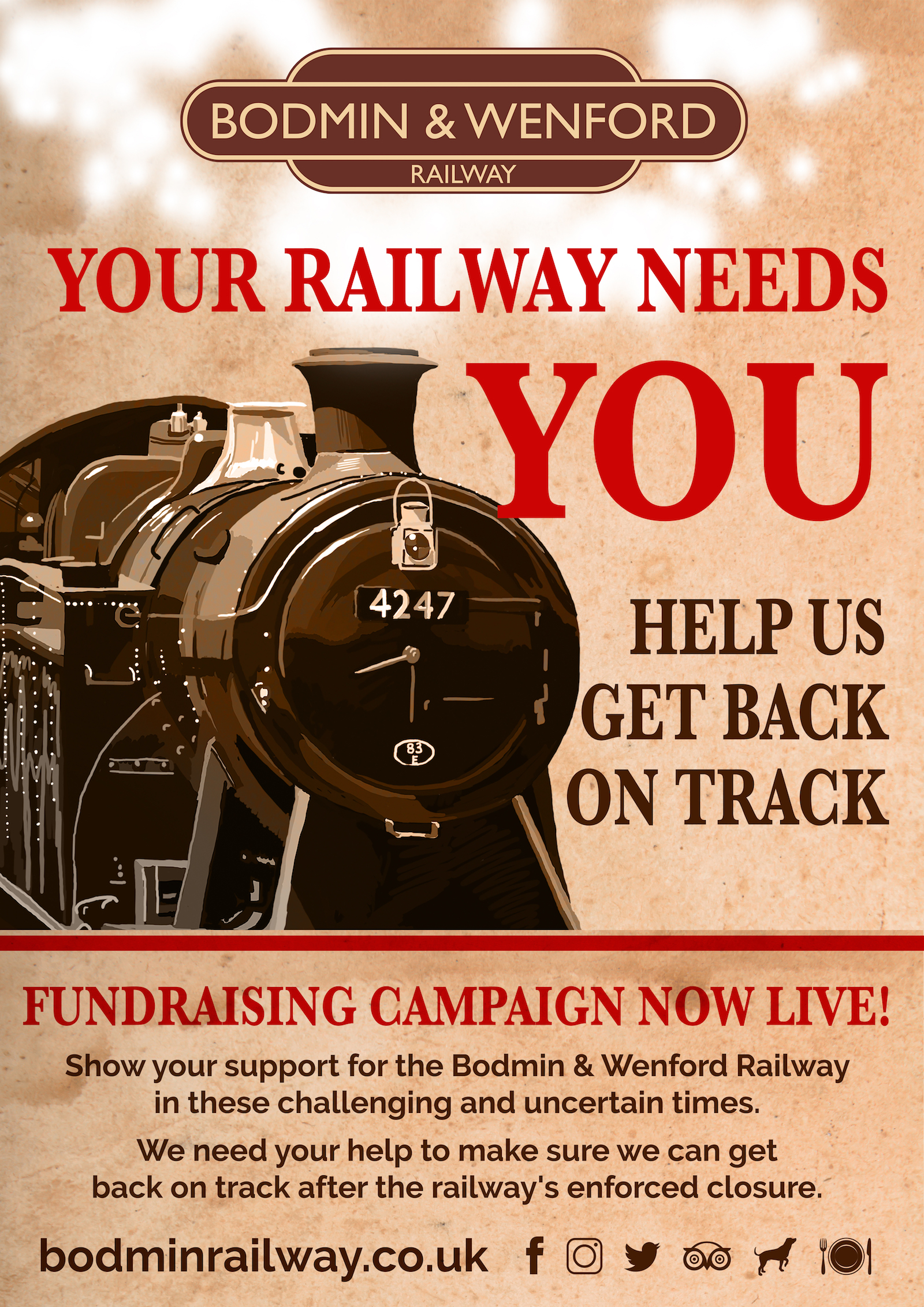 Fundraising campaign now live
One of the most direct ways you can support us is with a donation. As a small heritage tourism business and charity, we run solely on the income generated by ticket sales, catering and retail. Whether you're able to spare the equivalent of a coffee in our cafe or the cost of one Freedom of the Line ticket, or perhaps more, we're hugely grateful!
Donate to our fundraising campaign here
Shop with us
Did you know we have an online shop? You can now browse and buy a selection of items for our shop at Bodmin General online. We've been delighted to receive orders over the last few days with popular items ranging from DVDs and books to toys and models – perfect whilst you can't get your heritage railway fix in person. NB. In light of the circumstances, delivery will vary as we'll be posting orders once a week.
A variety of vouchers
If you'd like to support us and receive an excellent experience in return, consider buying a gift voucher. This enables you to join us for a future visit, without having to commit to a specific date at this time which we appreciate is difficult.
Browse gifts and experiences here
An event to look forward to
Is there a ticketed event or special train experience in our calendar for the summer, autumn or winter that's caught your eye? Booking now would make a huge difference to us as an organisation, to ensure all these great events can go ahead.
Join up!
Think about joining our railway society. If you aren't already a member, joining the Bodmin Railway Preservation Society would be a great way to show your support. There are all sorts of perks to being a member including discounts across the railway when we reopen. We'd love to consider you one of the team.
Find out about membership here
To show our thanks, keep a look out on our online channels where we'll be continuing to preserve community and positivity, and sharing our railway heritage in these strange and challenging times. Please stay tuned and get involved.
Thank you all.